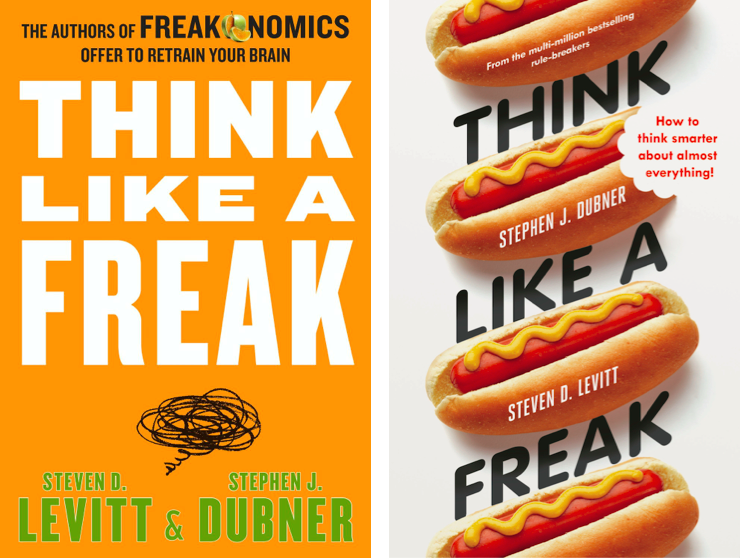 La coppia di popolari ricercatori non convenzionali, Steven D. Levitt e Stephen J. Dubner, sì, insomma i due di Freakonomics, tornano con un libro che esce oggi: Think Like a Freak: The Authors of Freakonomics Offer to Retrain Your Brain. Non sembra niente di che, sarà per questo che su Amazon lo trovate presentato da Malcolm Gladwell:
Dubner and Levitt's point, in their utterly captivating new book, is that following your curiosity—even to the most heretical and absurd end—makes the world a better place. It is also a lot of fun.
(Comunque c'è almeno un capitolo notevole: What Do King Solomon and David Lee Roth Have in Common?)
---
Ok, domani esce ufficialmente anche Glenn Greenwald, con No Place to Hide, il libro sul "suonatore di fischietto" Edward Snowden di cui tutti parlano già da un po' e del quale il Guardian ha messo online un estratto.
"Um, my name is Ed Snowden," the now-famous film begins. "I'm 29 years old. I work for Booz Allen Hamilton as an infrastructure analyst for NSA in Hawaii."
---
Uno dei pilastri della fotografia amatoriale sul web, Dave Powell di shoottokyo.com, è riuscito in un baleno a farsi finanziare un libro fotografico indovinate su quale città. La sua è una fotografia riposante e appassionata, principalmente scattata a colori con queste Leica qui.
---
E infine: